Posted by breanagoscicki | 1 Comment
Get to know our Events Coordinator for the 2014-2015 year, Hillary Jackson!
How did you first hear about NUDANCO/what made you decide to audition?
I first heard about NUDANCO when I was a senior in high school visiting NU for their Accepted Students Day.  I was on a tour of the campus, still unsure where I wanted to attend college, when I saw a poster advertising the Spring 2009 Showcase. I attended the show that night and was absolutely awed by the talent, professionalism, high quality of dancing, and obvious camaraderie amongst the company's members.  The show literally blew me away because I had no idea that NU, which didn't even have a dance major, harbored such outstanding dancers with an outlet to perform!  I had trained in a pre-professional ballet company in Vermont before attending college and was used to dancing and rehearsing 20+ hours a week.  Dance had become a major part of who I was and I knew that one way or another I wanted to continue dancing throughout my college career.  NUDANCO was one of the factors that swayed my decision and made me attend Northeastern University.
What is your favorite NUDANCO element during the semester and why?
Shockingly enough, I would have to say the dancer auditions are my favorite part of each NUDANCO semester.  Auditions in general have a reputation for being nerve-racking and stressful, but I have found that NUDANCO auditions are different because they are fun!  It's the first sneak peek at what our semester's show is going to look like and it's the first chance of the semester to reunite with all of the awesome friends I've made throughout my time in NUDANCO.  Although all auditions cause people to get nervous and paranoid they're not going to make the cut, etc., once I start dancing, all of those fears and worries disappear and it ends up being an entire day or two of dancing with my best friends and trying out a bunch of different styles and new pieces.  It's a chance to completely let go of everything else that may be going on in my life, and simply put every ounce of my emotion and energy into my dancing.  It's also exciting to see all of the new faces that show up at auditions because I get to see new talent and be inspired by new dancers that will hopefully become future company members and close friends.
What has been your favorite event to attend over the course of being in NUDANCO and what would you like to do with your Events Coordinator position for the upcoming year? 
One of my first years in the company, I attended the Boston Ballet's production of The Nutcracker as part of a company outing.  It was so much fun to get dressed up and socialize with my NUDANCO family outside of the studio.  The show itself was such an incredible treat to attend.  I still remember my jaw dropping to the ground when I entered the Boston Opera House because it was one of the fanciest, most beautiful theaters I had ever been in and the dancing was breath taking as well.  I loved taking advantage of such a wonderful and festive event that was going on in the new city I was beginning to call home.
As  this year's Events Coordinator, I want to organize more opportunities for NUDANCO members to become aware and attend dance-related events going on in our city.  We all share a deep passion for dance and I feel that we need to take advantage of the opportunities this city offers to spark new inspiration and enthusiasm.  Such opportunities and events will include encouraging members to take open-classes at any of the multiple quality studios in the area, attending performances, dance festivals and dance-related talks, as well as lots of bonding and fundraising events.  I ran for this position on Eboard because I want to help foster friendships similar to the great ones I've been fortunate enough to make through being in NUDANCO.  In my opinion, NUDANCO is one of the top companies at our university and I not only want to help it to grow, but I want to continue sharing our success and talent with an even larger public audience.
What has been your favorite piece that you have performed with NUDANCO? 
Wow, this is a tough question!  I have had the great honor of being in so many different pieces by many talented choreographers over the years, it is difficult to pick just one favorite!  Although, in order to figure out my answer to this question, it did give me a great excuse to binge watch a ton of old NUDANCO videos on our youtube channel, so thank you!
One of my top favorite dances that I've been in was Rebecca Daly's piece in the Spring 2012 Showcase.  Rebecca choreographed movements that were so purposeful and distinctly dynamic, which strongly complimented the musicality of the piece.  Her choreography made me feel absolutely alive when dancing in this piece. View Rebecca's piece here: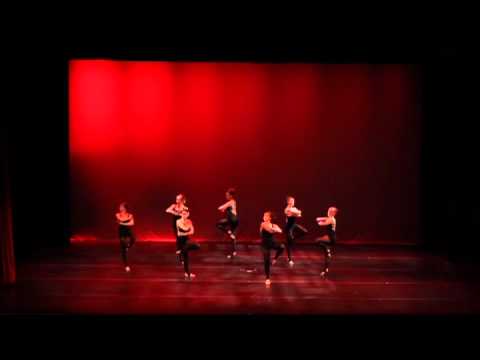 As part of your current co-op, you get to work with dancers with regards to their physical therapy. How has having a dance background yourself impacted your career goals? 
I am currently co-oping at Sports and Physical Therapy Associates (SPTA) in Wellesley, MA.  I work directly with Kristen Lung Batista, who is a former professional dancer with the Boston Ballet Company who then earned her Doctorate of Physical Therapy degree at Northeastern University.   I have always dreamed of having a career where I could combine my experience and knowledge of dance  with my knowledge and passion for physical therapy, but I had never seen it done in person until I worked at this clinic.  I knew from my own medical experiences that it is extremely rare to work with a doctor, or any health care professional, who has any deep knowledge about dance and the demands that it places on the body.  I feel that I owe it to my future patients to put my rare dancing knowledge and experience to good use.  At SPTA, we specialize in treating dancers and are able to clearly understand the stresses of their intense training, the expectations put on them by themselves and their directors, as well as the bio-mechanics of the human body as they pertain to common dance-related injuries.
Through this co-op I've  not only gotten an unbelievable hands-on experience treating dancers, but I also attended a conference put on by Boston Children's Hospital called Boston Children's Dance Symposium 2014: The Evaluation, Treatment, and  Rehabilitation of the Dancer with an Injury to the Foot/Ankle.  This was an all-day conference that consisted of fourteen different speakers all focusing on how to improve our healthcare treatment for the dancer population, specifically when dealing with a patient who has an ankle or foot injury.  The speakers consisted of world-renowned surgeons, doctors, physicians, physical therapists, professors, and a current professional dancer, all of whom shared their specialized knowledge about foot and ankle injuries specific to dancers.  It was a truly inspiring conference that provided me with a wealth of information and knowledge.  After attending this conference and working for sixth months at SPTA, I am more inspired and motivated than ever to continue striving towards a career which will allow me to help heal this special population of patients with whom I feel so closely connected.
How do you find time to balance NUDANCO with the other things you are involved with/what are you involved with (student groups, major, etc.)?   How has NUDANCO impacted your overall Northeastern experience? 
I am a Physical Therapy major at Northeastern which alone takes up a majority of my time as it is an extremely rigorous major.  Outside of academics, I am involved with NU Downhillers Ski & Snowboard Club, which is a club on campus that goes on day-trips every Saturday to mountains all over the east coast for ski trips.  I enjoy staying active by also taking dance and yoga classes at different locations around the city, and I work part time at two of my past co-ops.  My life is extremely busy, but one thing my parents always taught me was the importance of balance.  NUDANCO is not only a great opportunity to continue performing an art form that will always be part of who I am, it is also a fun, social outlet, as well as physical release, that has helped me to form some of the greatest and strongest friendships I have found since attending NU.  It is not difficult to find time for NUDANCO because being part of this group has given me so much throughout the years and it is easy to make such a positive thing such a high priority.

Read More