NUDANCO Highlight: Breana Goscicki
Get to know NUDANCO's President, Breana Goscicki!
How did you first hear about NUDANCO/why did you decide to audition?
Originally when I was looking at schools the key element I wanted in the school was my major. With pharmacy it's tricky because not every school has it and I figured it'd also be cool to be able to continue dance if given the chance after graduating high school. When doing my research there were many schools with your standard dance team, hip hop crews, and the like, but when I stumbled across NUDANCO's YouTube page my junior year of high school it only made me fall in love with Northeastern even more. Viewing the different pieces that had been performed over the past few years, I knew that it was something that I wanted to be a part of. The setup of NUDANCO and both the creativity and variety that I saw amongst the dancers made me want to invest my free time at Northeastern in something that I love to do.
What is your favorite event during the year with NUDANCO?
This will be my third year on the Eboard and every semester the event I get most excited for is choreographer auditions. While everyone gets to see a preview of each dance on dancer audition day and then the final product at the show, it's truly a lovely experience getting to be part of putting that show together. What I love about it is that you get to see the inner workings of all of our beautiful dancers' minds when they show off their stuff and explain the vision they have for the semester. It's a rewarding feeling when at the end of every semester you know that you had a hand in picking what always ends up being a beautiful show.
What has been you're favorite piece that you have been in so far with NUDANCO?
So many to choose from! As far as my first hip hop debut with NUDANCO, in the fall semester of my sophomore year I was chosen to be in Andrea Kohanna & Angela D'Ercole's 'Monster' piece which was so cool to do because it was a theme of hip hop that I didn't necessarily get to do in high school. I'm also pretty sure I didn't know I could rock a stank face until that audition and it's now a quality of mine that has gotten me compliments after performing on the NUDANCO stage. I'm going to have to also pick a second favorite because it was just so much fun and I got to work with a great choreographer, Shannon Brown, and fabulous dancers who made rehearsal every week pretty sweet. This was Shannon's last piece for NUDANCO, '#nutapco' to LMFAO's 'Party Rock Anthem' and she definitely created a party on stage.
Watch Angela & Andrea's piece here: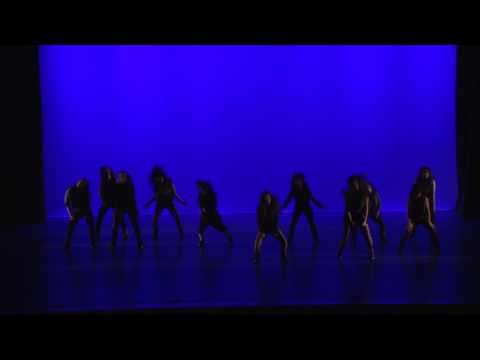 Watch Shannon's piece here: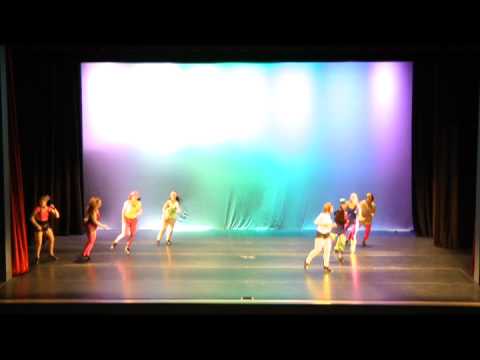 What has been your favorite piece that you've choreographed?
It has to be the 'Girls Just Wanna Have Fun' piece I choreographed with Hannah Gibson for our Throwback show. Even though this was the largest group of dancers that we had both worked with it came together and our dancers were on point come show day. Additionally, Katherine Dumais provided us with some sick lighting after we had given her only 3 suggestions or things that we needed for the piece. Hannah and I were able to incorporate a ton of our favorite throwback songs and give off a number of vibes and styles with our song selection, so much so that I couldn't pick a favorite section of the dance. I think that all of our dancers truly enjoyed the dance and had a lot of fun learning it which definitely showed in the final performance.
Watch Breana & Hannah's piece here: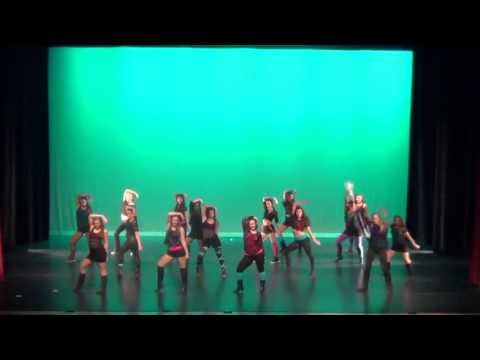 How do you find time to balance NUDANCO with the other things you are involved with/what are you involved with (student groups, major, etc.)?  
As a lot of people know, I'm kind of the "get everything done myself" involved person that somehow survives each semester. At least I'm surprised when I do. As a pharmacy major it's been a lot of give and take with my student group involvements and being able to get the work I need to done. Additionally, I am on the Eboard for Colleges Against Cancer and hold the Entertainment Chair position for the Relay for Life Committee. Being Entertainment Chair allows me to combine my love for the performing arts and Relay, to help keep attendees having fun. When NUDANCO performs at Relay as well it's always a fun show and a good time to show off to some of the students who may not make it to our shows each semester. I currently work per diem at Dana Farber Cancer Institute as well, after doing two of my co-ops there. This position is something that I very much enjoy and I am happy I have found a work environment that I like going to and feel appreciated. I also attend and participate in events for other student groups on campus including NRHH, NUSHP, & ACCP which throw some interesting bits in my life now and again. Organization is definitely a key factor in balancing all of my commitments, and I've got the color coded planner to prove it. However, I think it truly is the fact that I have been involved in things that I am passionate about, including NUDANCO of course, and that I have developed a strong support system of friends and family that can get me through the semester week by week, to you guys I am grateful.
Do you have any plans for the upcoming fall as far as choreography/what are you planning? 
So normally I'm the hip hop chick. However, this semester I'm super stoked about being able to do a hip hop/contemporary fusion piece with some music I find enthralling. I'll be choreographing a dance to the Sound Remedy remix of Daughter's 'Medicine' and I'm excited to be able to work with dancers that I maybe don't usually have the opportunity to due to the slight contemporary nature of the piece. This will definitely be something different coming from me this semester so everyone should come to the winter showcase this December! I'm also hoping to be able to do some side projects with our dancers this year for more opportunities for everyone to see the talent that NUDANCO has to offer, aside from just at our showcase. This will also increase the opportunity for more of our dancers to get to work together. I'm thinking it's going to be a great semester!
How has NUDANCO impacted your overall Northeastern experience? 
NUDANCO is my love. I've met so many great people through NUDANCO and they are usually good for a fun night out or in. If I didn't do NUDANCO I wouldn't have my current roommate (shout out to Stephanie Aboulafia) who's fabulous, as well as the many great friends I have made over the years. NUDANCO has allowed me to interact with many people within the university that might not be in the company itself and being on Eboard has broadened my knowledge of Northeastern policies which tend to come in handy from time to time. NUDANCO has allowed me to project so many of my visions onto all of the talent we have in our company and lay it out on the stage in Blackman Auditorium every semester. Being involved with this wonderful group has shaped a large chunk of my experience at Northeastern and I couldn't imagine my time here without it. I hope that the company continues to grow and flourish like I know it can this year and following my graduation at the end of this year.