NUDANCO Highlight: Megan Trombi
How did you first hear about NUDANCO/why did you decide to audition?
 When I was first getting ready to go to Northeastern for my freshman year, I knew that I had to keep dancing since it was such a big part of my life growing up. However, there were so many options to choose from that I wasn't sure what I was going to do. Luckily, one of my friends from my studio back home who had been going to Northeastern for a few years (thank you Megan Beaver) Facebook
messaged me a few weeks before school started telling me all the reasons why NUDANCO was the best choice! That sealed the deal for me and made me so excited to go to auditions. Once I got to meet all of the company members and saw all of the great opportunities I could be apart of, I knew that I made the right choice and that NUDANCO would be one of my favorite parts about Northeastern!
What are some of the best parts about NUDANCO that you think separates it from the rest?
 I love that the company brings together so many people who all love dance, and have so many different unique things to bring to the table. The styles of dance and all the amazing ideas for pieces that everyone comes up with are so inspiring, and each semester is a new and exciting performance. Being able to take a few hours a week and focus on something other than schoolwork is such a great stress-reliever, and means I always have something to look forward to. And I think the best part is definitely the friendships you make! I've met some really great friends through the company who I wouldn't have without it, so NUDANCO really has a little bit of everything!
What has been you're favorite piece that you have been in so far with NUDANCO?
This is such a hard question! I've been so lucky to have been in some really great contemporary and lyric pieces, and even did hip hop for the first time in a few years last semester, but since my favorite style has always been jazz, I'll have to go with Megan's piece my very first semester "You'll Find A Way." Not only do I absolutely love that song, but I got to be really intense and sassy while doing some really tough and cool choreography. I think the fact that this was one of my first dances with the company will always make it special to me, and rewatching it always makes me feel like dancing! Watch Megan's piece here: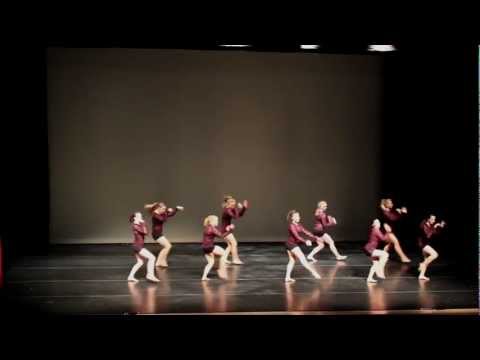 What is your favorite event during the year with NUDANCO?
Again, another tough question because pretty much every event throughout the semester is always a blast!  But since I have to pick, I think I'll go with dress rehearsal. Not only do I love getting to get all decked out in stage makeup and costumes, but being able to finally dance on the stage in Blackman (and without an actual audience yet!) is a great feeling. I love getting to see all of the finished products of the pieces that I'm not in, and seeing the difference the costumes and lighting makes is always really exciting. Being able to spend a whole night performing and watching dances with your friends and no real pressure is so much fun, and makes me that much more excited for the show day to be here!
Do you have any plans to choreograph in the fall?
I can finally say that I'm over my nerves and will be preparing a piece for the fall! This is something that I've been wanting to do for a couple of semesters, and now that I think that I've found the perfect song and inspiration I'm really excited. I won't give away too much yet, but this is one of my favorite songs of all time and will definitely be an intense and flirty jazz piece, with lots of intricate choreography and lighting to go with the strong beats of the music and words of the song. Hopefully all will go well at choreographer auditions and I'll be able to bring it to the stage!
This will be your first year on the E-board as treasurer! What are you most excited to do in this position and what do you hope to accomplish?
NUDANCO has been such an important part of my college experience and I'm so excited to be able to give back to the company! In my position not only do I get to pitch to the financial board to make sure we get the funds for our show, but I get to work with the rest of the amazing ladies on the board to make sure the year runs smoothly and that everyone gets the most out of this experience. I am really excited to see our company grow and get closer. I want to make sure that more people have to chance to join this amazing group of dancers, and are able to take part in all of the fun aspects of the company in and out of the studio. I think this year is going to be the best yet, and I'm really looking forward to working hard to make sure that happens!