NUDANCO Highlight: Taylor McLelland
Get to know our Creative Planner, Taylor McLelland!
How did you first hear about NUDANCO/how did you decide to get involved?
I actually heard about to Nudanco when I was in high school from a friend whose older sibling went there. It was around the time when they were having their annual winter showcase, so myself and a couple of friends actually went to that show. I think that is pretty much what sold me on joining Nudanco by seeing how good they were! I remember just being so amazed by the whole performance and wanting to know more. After I was accepted to Northeastern I got in contact with one the current members at the time and we met for a little on campus. She told me all about the company and what they do with such enthusiasm that I couldn't wait to go to tryouts later that year.
Coming from a competitive dance studio back when I was in high school, I thought joining Nudanco was the perfect fit! I loved how they held recitals at the end of every semester, just how my old studio used to be.  Although it was lesser of a commitment compared to what I used to do, I knew that this would be a good thing for when I was enrolled in a full semester of classes not really knowing what to expect.
After my first semester freshman year trying out and making it, I just feel in love with the company and the fact that I was still able to continue dancing. I have been a member of the company for almost five years now and coming up to my last year I decided that it was time to get more involved with the company. Becoming a member of the eboard is something I always wanted to do and running for Creative Planner seemed to be the right position for me, being a graphic design major. Getting the chance to create numerous materials for the company, from t-shirt to posters and more, is so great! Design is my passion and being able to do it for a group I have been apart of and grown up with for so long seemed to be the perfect fit.
What is your favorite piece that you've been in with NUDANCO?
Lost in the Moments by Andrea Kohanna and Angela D'Ercole
This was the first hip-hop dance I was in and it is still one of my favorite pieces to this day! I remember trying out for this piece and thinking "I don't know if I am hip hoppy enough for this." Coming from my old studio we did some hip-hop, but focused more in other genres. And then seeing this totally new hip-hop style I've never done before, I just had to try out. I didn't go in with any expectations, but I sure did give it my all. When the results came out and I saw my name on that list I cannot tell you how excited I was. I was a little nervous being a freshman and not really knowing who anyone was but I was excited to finally be a member of Nudanco and get started.
After learning this dance is when I started to really enjoy doing hip-hop even more. I loved the songs and they really made me get into it and feel the music. Performing this during our winter showcase was so much fun! I finally got to do a piece that was out of my element and I like to think we killed it! I find myself re-watching that video every now and then and just being in awe that I got to be a part of that piece. It's definitely a dance I will never forget.
Watch Andrea & Angela's piece here: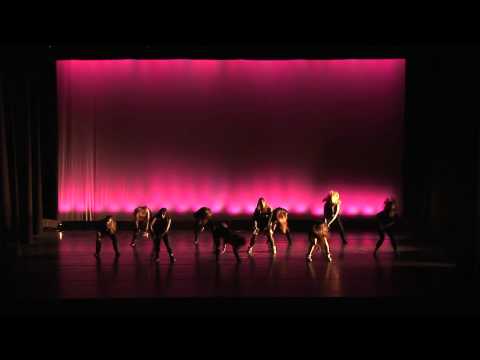 How has your learning at Northeastern/co-ops helped you out with designing things for NUDANCO? Have specific things influenced how you choose to design something?
Coming into Northeastern as a design major you get the opportunity to take a large variety of art and design courses. On top of that, being able to experience first hand what its like in the real world as a designer with co-op. This really gave me the ability to not only grow as a designer but also take in new experiences that Northeastern has offered. Since becoming the Creative Planner for Nudanco, I have been able to put all my combined knowledge from class and co-op towards this.
When it comes to designing something I always look for inspirations around me, whether it's from current trends, nature, structural elements, or famous designers works.  With this I can brainstorm and start to formulate an idea of what I would like a certain design to look like. I always try to design with an open mind and then see where that leads me. It usually takes a lot of drafts of a design of looking it over, editing, or asking for feedback from others until there is a finalized one, but in the end you want something that appeals to who ever may be viewing it. And creating something to do just that takes a lot of time and effort.  But with that I always strive to represent Nudanco in the best way possible to further promote our company.
Creative Planner is a new position the eboard this year, while you have been doing the program/poster/tee shirt designs for the past year is there anything else you'd like to add during the year to promote NUDANCO?
Aside from the current design materials, I have had a few other ideas to further promote Nudanco. First off, I would love to redesign the Nudanco website to simply just give it a new and fresh look. Not that I don't already love the previous site design, I just think it would be nice to switch it up. I'm thinking something simple, yet easily understandable and also to navigate through by the viewer. I like to think of it as just a face-lift! All the information will be the same, but the exterior will be slightly different.
That's the big project I would like to take on, but other ideas I have are to constantly create informational flyers for an upcoming events, photo and video highlights to post on our social media sites, new Nudanco t-shirts to sell during shows as promotional materials, and photo shoots for not only Nudanco members but possibly one for younger dancers interested in continuing dance throughout college. I am very eager to start on these new projects for this coming fall semester and really get Nudanco's name out there.  There are many new things to take on but I'm definitely ready for the challenge as the new Creative Planner.
What is your favorite event during the NUDANCO season?
My favorite event during the season would have to be the Fajitas and Rita's fundraiser. Not only do you get to bond with current members but also you get to enjoy delicious food on top of that. It's a chance to hang out with other members in the company outside of the dance studio and get to know those who many not be in the same dances as you.  Our company is made up of around 40-50 people so getting to know everyone may be a little tough sometimes, but this give you the chance for just that. You start to get to know people better and form that strong Nudanco bond that the company has. And who knows you might even find someone who wants to collaborate on another dance with you or just even get to know you better. It truly is just a good time and you enjoy it with great people.
What are your plans for choreographing this fall?
Big news…at least for me. I plan on choreographing a hip-hop dance in the fall! This is my first dance that I would like to choreograph for Nudanco and I am pretty excited about it! I won't give anything away just yet, but I've incorporated a lot of current and also remixes of songs that many of you probably already know. It will be strong, sassy, upbeat and a lot of fun. So fingers crossed that choreographer auditions go well!
As a senior who will be graduating this upcoming year, what do you hope to contribute throughout the year to leave for future NUDANCO members?
I know it's going to be an amazing last year here with Nudanco and out of everything the one thing I hope to leave behind is simply continuing the love for dance. Nudanco has not only given me so many opportunities but also made my college career that much better. You get to do something you love and also meet so many amazing individuals along the way. The friendships I have formed will last forever and I am so grateful of that. From my first year in Nudanco til now, I have not only grown as a person but as a dancer as well. Dance is a huge part of my life and I really don't know what I would do without it. It's almost like a happy place for me, when I'm having a bad day or just need escape from the real world. Through dance I am able to let it all out and express myself in a way I love.
Dance is something not only myself but everyone in the company puts their heart and soul into and it really shows. The amount of hard work each and every member puts into their dances is amazing and you can see it all in our showcases. Just a pure love and joy for dance. To somewhat I want to leave behind may sound a little cheesy, but I believe that this love for dance is one of the many things that make Nudanco what it is today!